Welcome to our Smile Gallery. Please enjoy some of our amazing smile transformations.
---
Sometimes, after many years, Old dental treatment fails. Replacing old bridges with state of the art materials and good esthetic technique allow for restoring a tired, worn out smile with a vital, fresh, clean look.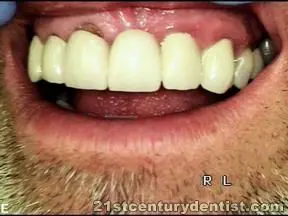 Before and After
The health of the gum tissue tells the story. Nice healthy gums can be kept that way with well fitting restorations, be they bridges, crowns or veneers, that are in harmony with the other tissues.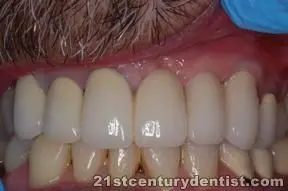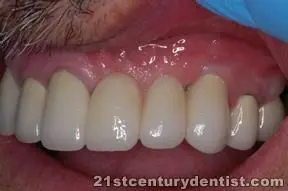 Before and After
This was a major undertaking, removing cracked teeth, treating root canals that were required and stabilizing an otherwise volatile condition. The end result was a stable, well-fitting and esthetic restoration of a person's smile. What's that worth? This gent was thrilled and so was I!
Above photos are actual patients of Joel F. Levy DDS who have given consent for the use of their photos for this website.