Welcome to our Smile Gallery. Please enjoy some of our amazing smile transformations.
---
Sometimes, it takes a traumatic event to help one decide to improve their smile. This patient fractured an existing crown. She decided to replace just the 2 front crowns. It was interesting to find out that the previous DDS had replaced the crowns twice. Still, the result was less than optimal and more importantly, it was not acceptable to the patient.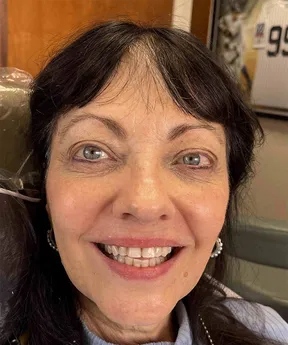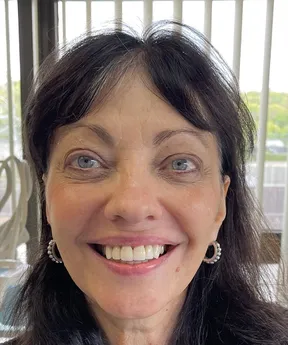 Before and After

Before and After

Before and After

Before and After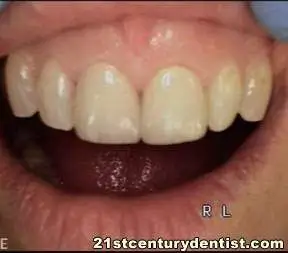 Before and After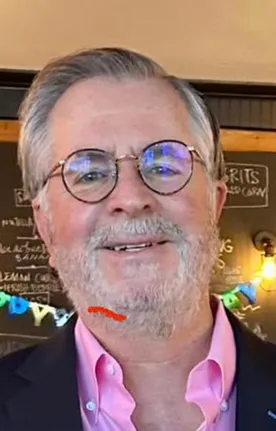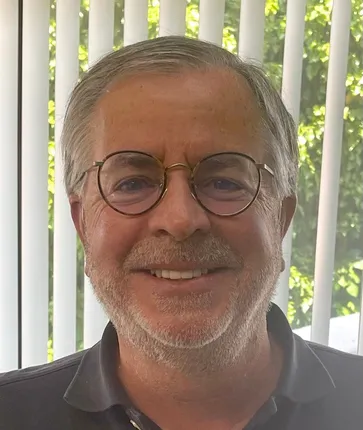 Before and After
The goal of esthetic dentistry is to improve the patient's appearance. Often, it requires treating a group of teeth to get the desired effect. In this case, the patient told me right up front, that we were not touching any other tooth except the 2 front teeth. We told the patient that in order to create the ideal smile we would have to balance the sizing and adjust the shade. The patient understood and opted to compromise. We actually, obtained a fairly nice result.
---
After many years of thinking about 'fixing her front teeth' it was finally decided upon. First step in correcting this less than ideal smile, was to wax up a diagnostic model to the ideal proportions and fabricate a clear plastic stent that would enable us to transfer the ideal to the patient's mouth. This technique is crucial, as it allows the patient to preview the proposed changes to the smile, before it is finalized in the form of porcelain veneers or laminates. Our goal was to complete only the upper teeth, as that is all that time would allow.

Before and After
The smile here, is distorted due to old restorations which were mismatched, improper gum heights and the need to extract strategic teeth. We were about to embark on a journey to create the smile of her dreams...

Before and After
Smile creation is about listening to the patient, following the rules of proper smile design and matching the two. This resulted in the creation of a beautiful restoration.

Before and After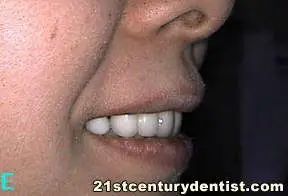 Before and After
---
After large fillings, it is common for the nerve in a tooth to die. Often, the tooth will discolor. In this situation, the patient was concerned about the discoloration. We found that the nerve had died. After root canal therapy, we placed a highly esthetic crown to perfectly match the surrounding natural teeth.

Before and After
The days of having unesthetic blocks of porcelain, restoring teeth are over. With the advent of new ceramics, we can now almost duplicate the natural teeth on either side of a porcelain crown. They will reflect light similarly, have similar surface texture a share the many colors that are often evident in a natural tooth. The same properties of ceramics that allow this to happen, can be employed in ceramic or porcelain laminates. You too can have these types of cosmetic dental procedures done in our NYC office or our Larchmont, New York office.
---
Our teeth can be the culmination of many years of dental treatment. Having seen the effects of time on old composite resins (white fillings), old silver amalgam fillings and even old porcelain fused to metal crowns. The end result can be quite unsightly, especially if they are in the esthetic zone. New strides in dental materials, with life-like porcelains and highly polishable and durable composite resins, have enabled the cosmetic dentist to recreate a more youthful appearance.

Before and After
Notice how the shine through of the old silver fillings create a dark look to the teeth, when viewed from the side. We replaced the two premolars with all ceramic crowns, while we added a porcelain veneer or porcelain laminate to the canine just adjacent to the crowns. The cosmetic improvement was spectacular. It really changed this person's smile dramatically.

Before and After
Another view of the existing restorations as a before photo and compared to the finished beautifully cosmetic improvement of the photo on the right.
One might look at the dark color of these teeth or the crooked alignment of them as being the main incentive to 'correct' this situation. Actually, the main incentive was that he was slowly grinding away his front teeth and was concerned that they were so short, they couldn't be seen. Since this patient decided against a full mouth rehabilitation, we agreed to restore the function to the front teeth, protect them with ceramic crowns and enhance his smile all at the same time. What we see here is the front 6 teeth with artistically designed temporary crowns. We will crown the additional 2 teeth on the left and apply porcelain laminates to the existing bridge on the right to avoid the replacing of an otherwise functional bridge.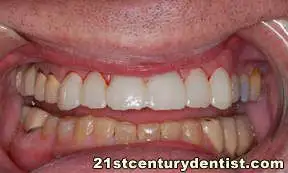 Before and After
A few features of this patient's condition were that the front teeth were set back behind the lower front edges. This in conjunction with the ground down front teeth (due to grinding) prevented the front teeth from showing when he smiled. So, we extended the teeth and overlapped them, over the lower front teeth and created a favorable style of occlusion (bite) which would protect the edges of the final restorations. The edge of the temporaries have slight irregularities that I added to later. The added length along with the corrected tooth position gave this gentleman a way to preserve his front teeth, make them whiter and last but not least, gave him a wonderful smile makeover that allowed him to smile the whole day of his daughter's Bat Mitzvah. I should know, I was there.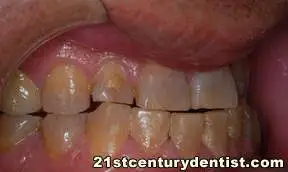 Before and After
A few more before photos to get an idea of what a destructive habit can do to natural teeth. We are proud to offer our services to the residents of New York City (NYC) and its surrounding areas: Bronx, Larchmont, New Rochelle, Mamaroneck, Rye, Harrison, Brooklyn, Mt Vernon, Queens, Manhattan and more!
---
This friendly fellow came to us requesting to save the fractured teeth shown in the before photo. We unfortunately were unable to do that. So, we fabricated a strong esthetic bridge to close the gaps and support the remaining teeth. The result was splendid and the patient was thrilled. Now we have to continue to monitor the patent's oral hygiene, as it is easy to slip back into old habits.

Before and After
From before to after speaks for itself. A solid result with a very happy patient
---
A fellow dentist, had referred his office manager's mother to us to help her with her concerns. She had an old denture that just made her look much less vital than the woman she was. Add to that, she had a bridge in front that was at the wrong level. So, we fabricated a new denture and overlaid it over the bridge to make it appear even. These photos are not the final pictures. We still needed to finish the left side. However, not a bad result. She was much happier.

Before and After
This sweet lady walked around like the picture on the left since, she thought that is how it is supposed to be. Her daughter knew better. After we tried the initial setup, we could see we were back on track. The teeth to the right show the existing bridge, which we overlaid with the new appliance. A novel idea, that worked perfectly.
---
This young woman had a single crown which was done several years prior as a result of an accident. She now wanted to replace it, as it had become unsightly. Mom was told that if we did replace the crown, it might require replacement in a few years as the teeth reach their final positions and growth eases. With her approval, we attempted to improve this young lady's self esteem. The gum height is different, so we recommended a little gum recontouring. At this point they decided not to go ahead with that procedure. Although it is not perfect, it is a great improvement.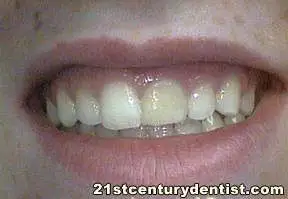 Before and After
Color and vitality were perfect. She was thrilled. I just wish we could have pushed up the gum, just a sliver to make the 2 front teeth appear the same size. It wasn't desired, so we didn't. Patients have the right to decide how far to go. If there is an alternative that does not unduly threaten the result, we try to comply. Happy patients are what we are after.
---
This gentleman decided it was time to improve his smile.

Before and After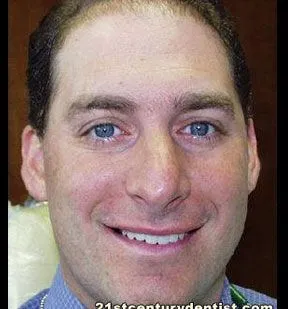 Before and After

Before and After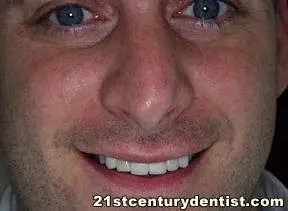 Before and After
---
Sometimes, porcelain laminates are not possible due to tooth position or inadequate remaining tooth structure. Bonded all ceramic crowns are a very esthetic alternative.

Before and After
---
This patient was very self conscious about his smile. He was reluctant to show his front teeth. We restored his six front teeth with a porcelain to gold crown, an all ceramic crown and (2) porcelain laminates. Can you tell which is which?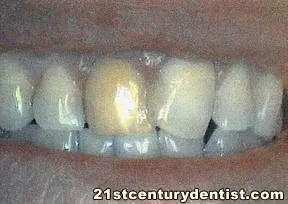 Before and After
It is almost impossible to tell which material was used in each tooth position. So, I will share with you. Left central is porcelain fused to gold crown. right central is all porcelain bonded crown and the 2 adjacent laterals are the laminates.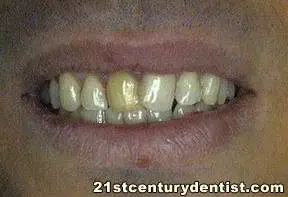 Before and After
Careful selection of materials can assist in getting the best, most esthetic results.

Before and After
Both of these are after treatment. One happy gentleman.
---
New Crowns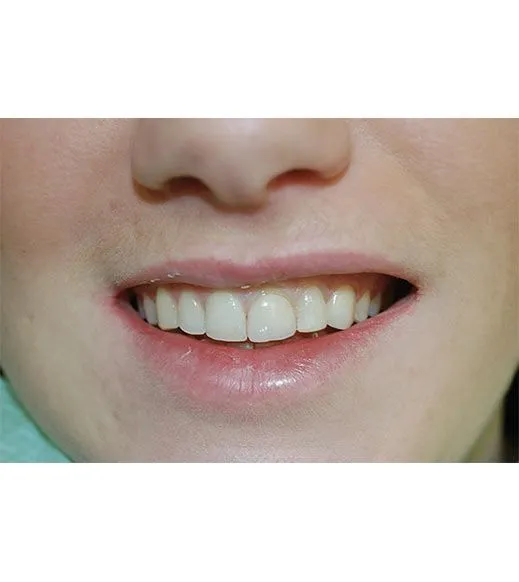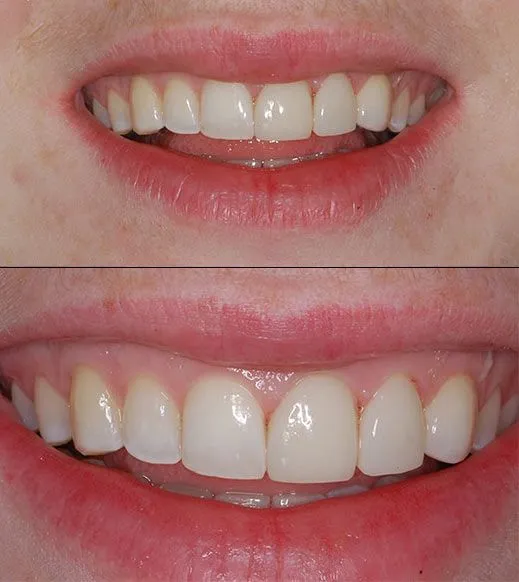 Before and After
Before and After
Before and After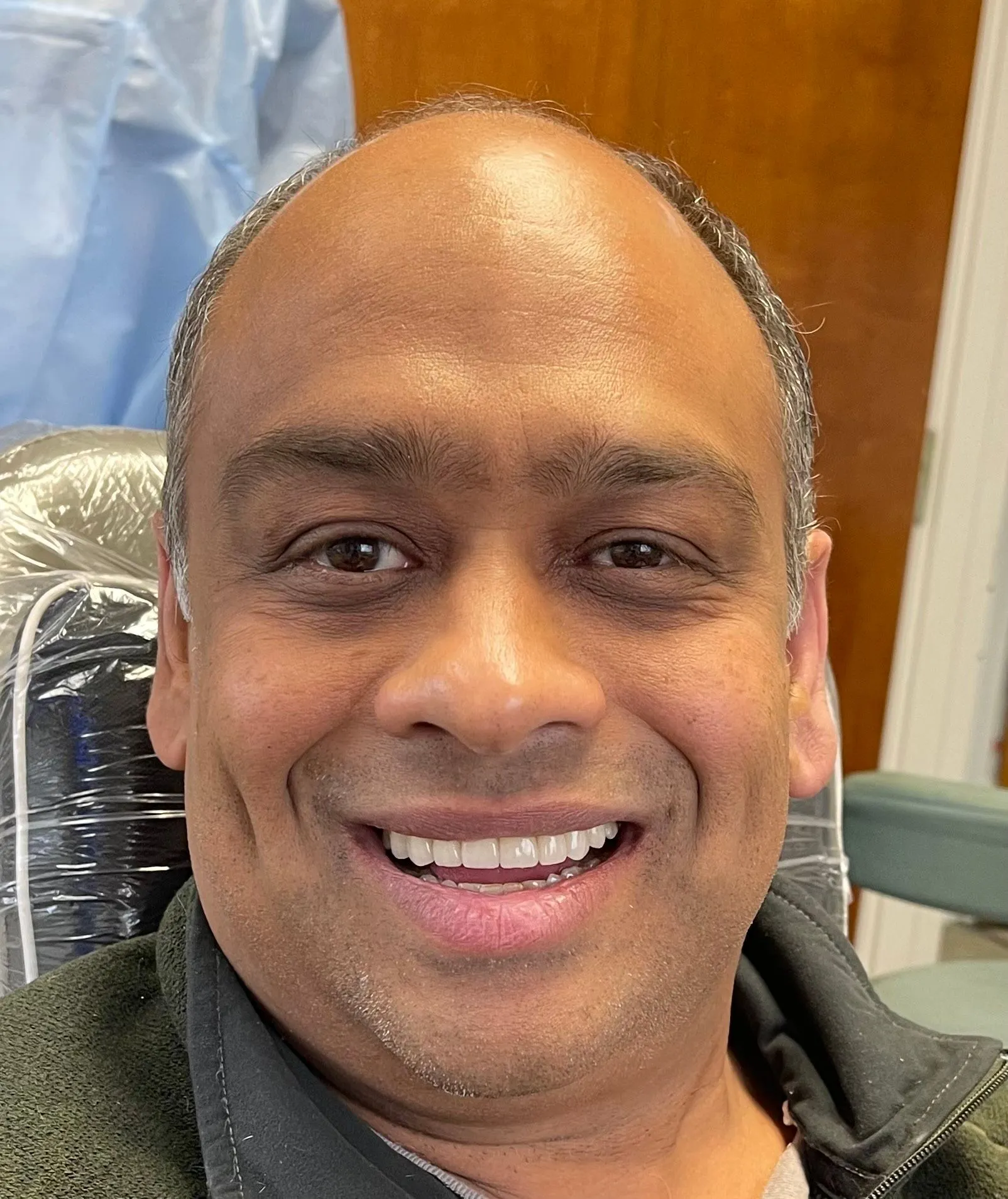 Before and After
Before and After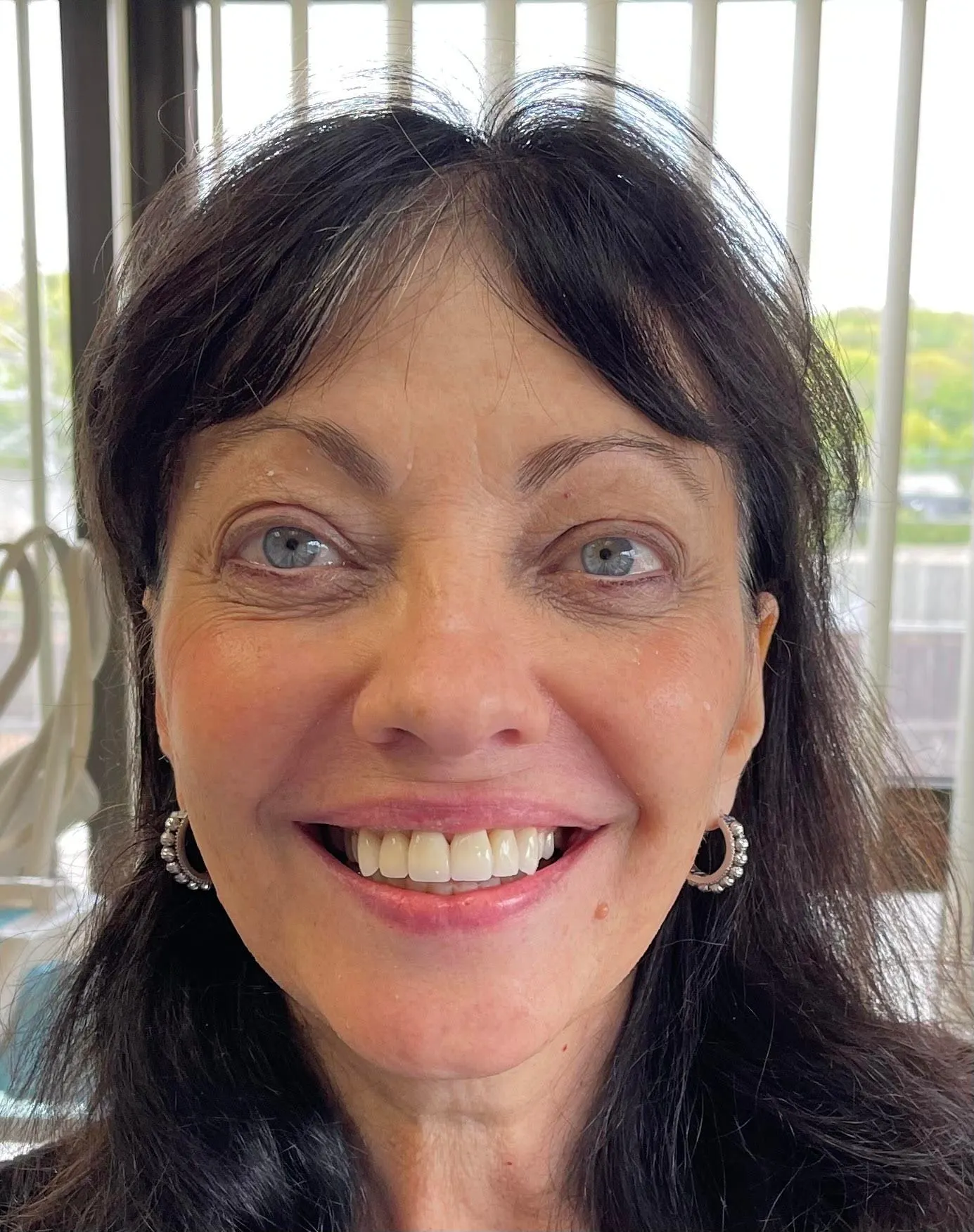 Above photos are actual patients of Joel F. Levy DDS who have given consent for the use of their photos for this website.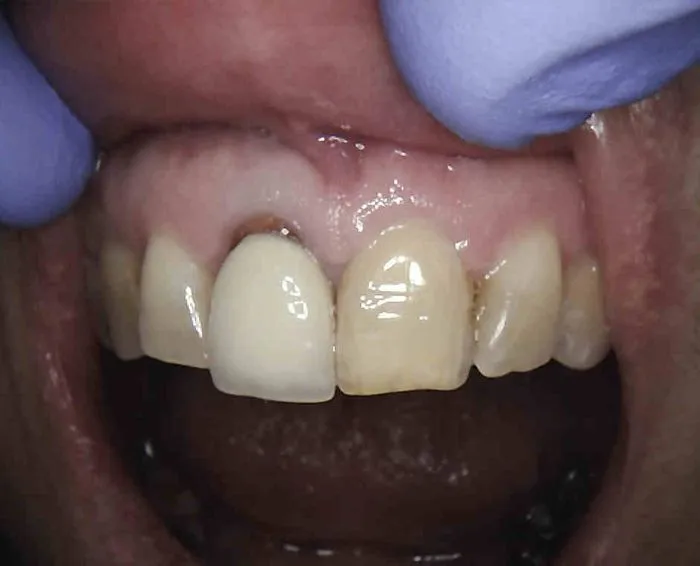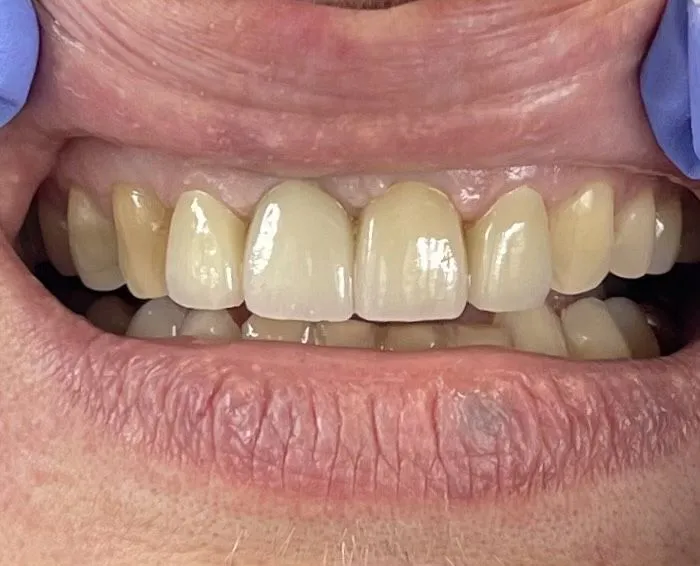 Before and After
Front four crowns matching to existing teeth at patient's request. Beautiful result!!