Welcome to our Smile Gallery. Please enjoy some of our amazing smile transformations.
---
Emergency! Emergency!.....I've broken my front teeth! This was the call on a Sunday morning. Being I am only a hop, skip and a jump from the Larchmont Office, I arranged to see this patient first thing on a Sunday morning. What presented was the fracture of the front two crowns. Several esthetic issues presented as well. The front teeth were out of proportion, the gum height on the 2 front teeth didn't match and the laterals (second tooth on both sides) were angled inward. By addressing the emergency and keeping an eye on the basic principles of esthetics we can create a great, natural smile that will create a very happy patient.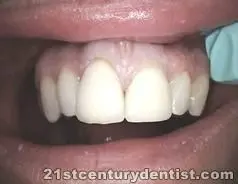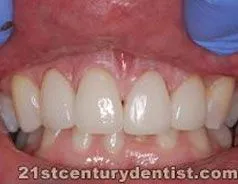 Before and After
Creating balance and proportion is what creates a natural, pleasing smile. We corrected the gum height using the er:cr:yag laser, reduced the width of the front teeth, pushed out the side teeth with porcelain veneers and simply adjusted the length of the canine on the right.There was a perfect color match between the bonded all porcelain crowns and the porcelain veneers (laminates).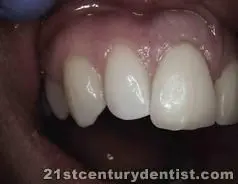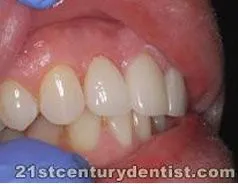 Before and After
This is a lateral view on the right side. Notice how the shape of the teeth has been improved by the porcelain veneer and the length of the canine is more in balance. Put it all together and the result is natural and very esthetic.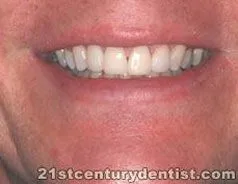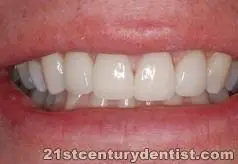 Before and After
Here are a couple more after photos to display the terrific esthetics we can create using porcelain veneers and bonded all porcelain crowns.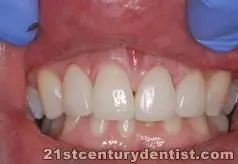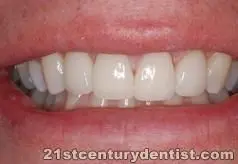 Before and After
The last of the post op photos. Hope you enjoyed them.
---
Often, we are so busy taking care of our other business, we forget about ourselves. After general restoration of cavities, the patient told us she was interested in fixing her front teeth and asked what was involved. We told her that first, we would make a diagnostic wax-up of the ideal and let her see what things would look like in her mouth. After trying in the provisional stent (without any tooth preparation) the patient was so excited to begin. 'How soon can we start?'' Your wish is my command. We started 3 days later.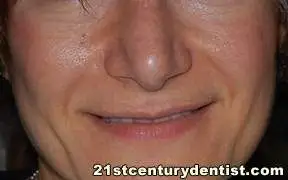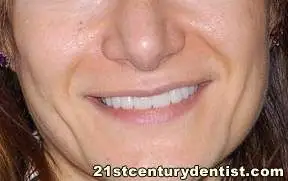 Before and After
What a dramatic improvement porcelain laminates (porcelain veneers) can make. Notice how the teeth are visible within the frame of the lips. This often happens when the teeth have been shortened by grinding or wear. This was a 2 visit transformation without Novocaine or temporaries. Unbelievable!!!!!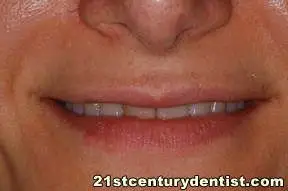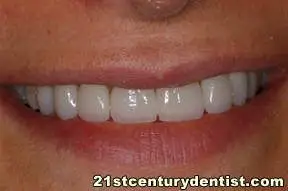 Before and After
The porcelain laminates in the after photo really are on full display. The full front surface is visible. Notice too, how the length of the teeth create a more vertical presentation as opposed to the before photo, showing a collapsed small slit of a smile.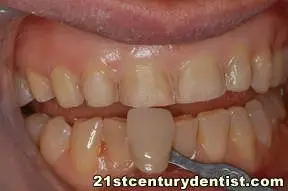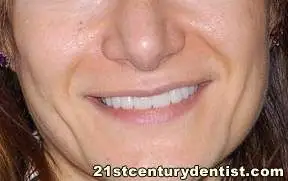 Before and After
This photo shows how little tooth preparation was done. There was no Novocaine and no temporaries to break. The patient was comfortable and not sensitive in the least. Porcelain laminates are very conservative and often can be done with a minimally invasive technique.
---
Sometimes, orthodontics is required to align the teeth to allow for the most conservative preparation to be used. This was the case here, where we fabricated 4 porcelain laminate veneers after the orthodontic treatment.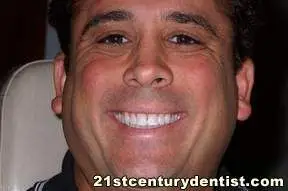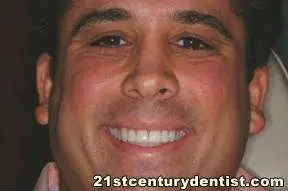 Before and After
The goal of improving one's smile can sometimes be accomplished by correcting what may appear to be very subtle details. Porcelain laminates can accomplish that and more.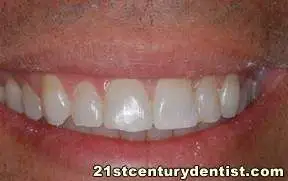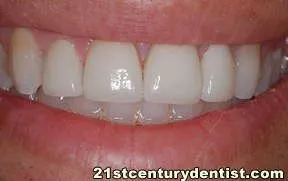 Before and After
Creating a natural, believable smile is what we try to achieve. Here, the sizing was corrected, creating the proper proportions and flow.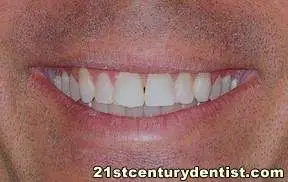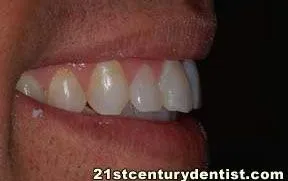 Before and After
Here we see the 2 before views, showing the misalignment and defects we will soon correct using porcelain laminate veneers.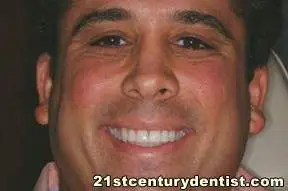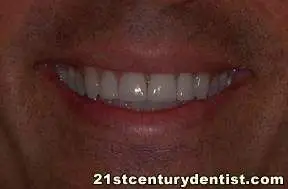 Before and After
What a nice result. Natural, believable and fitting the patient's face. It's amazing what 4 porcelain laminates can do!
---
Time passes and we are not always aware of the changes that come along with it. Since we are not usually looking at ourselves, it would more likely be someone else who sees the changes. However, once it is pointed out and the person becomes aware of it, restoration can then be done to refreshen the time worn condition. Here, we were mostly concerned with the worn and thin edges of the front teeth. These were refreshed with porcelain laminate veneers.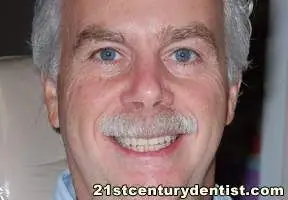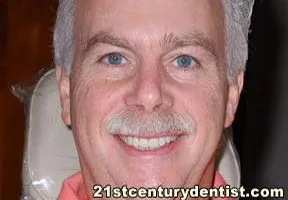 Before and After
What a dramatic change! The teeth appear longer, whiter and in proper balance. Notice, that the lower teeth are less visible in the after photo of the porcelain veneers. It is truly amazing how natural and vital porcelain veneers can be made to be.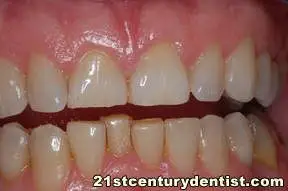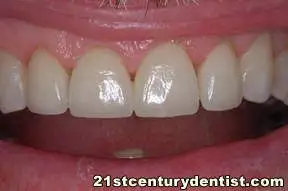 Before and After
Porcelain laminates or porcelain veneers, as they are commonly known, can do wonders in whitening teeth, lengthening worn edges and creating a warm inviting smile to replace a frail, worn dentition. They act to protect the edges and change the way teeth come together to protect the edges.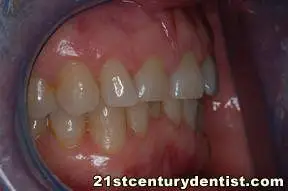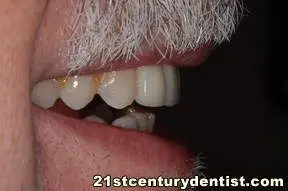 Before and After
Notice in lateral profile, the extent that the teeth are angled inward. The porcelain veneers were able to push out the face of the teeth, and create a more balanced arch form.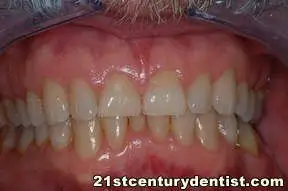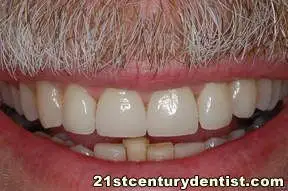 Before and After
---
White spots or hyper-calcified areas can create quite the esthetic dilemma. After a long period of time, this Patient decided she wanted to improve her smile. We placed 2 porcelain veneers (laminates) which matched the natural tooth pretty well. She was quite happy with the result.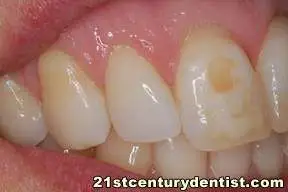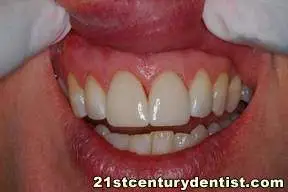 Before and After
The ability of porcelain veneers to mask dark stains and blend into the natural dentition, is what makes these so beneficial. It is one of the easiest things a patient can do to improve their smile.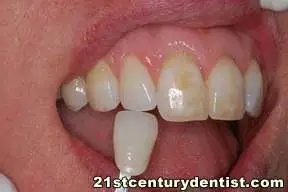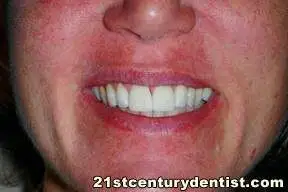 Before and After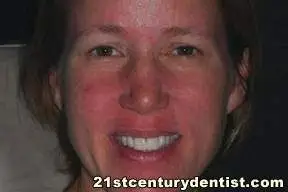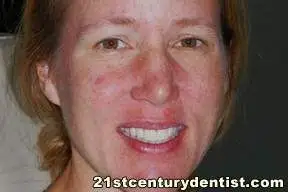 Before and After
---
During a routine re-care appointment, we suggested a way to improve this patient's smile. We made impressions of the upper and lower arches and sent them to the dental laboratory. There, they created a 'mock-up' or simulation of the ideal set up, with our input. Due to one thing or another, I did not hear back for several months. One day, I receive a phone call. 'My son's Bar Mitzvah is in 2 Wks., can you finish before that?' Yes, was the answer and since we had the initial materials for porcelain laminate construction (our road-map). We were ready to do everything we needed, in 1 visit and deliver the finished product in the second visit.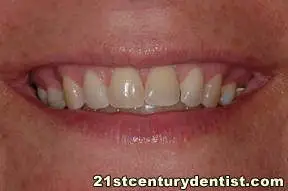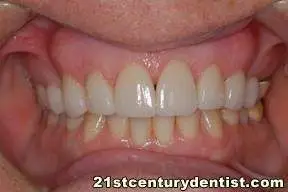 Before and After
What is unique about these porcelain veneers or porcelain laminates are that they use the Lumineers principles. These are ultra thin, minimal preparation veneers, done without Novocaine and temporaries. The whole preparation took 20 minutes and the patient left the office. Since we were able to show the patient her smile ahead of time, using the prefabricated see through mold, she was able to feel confident and excited about finishing the porcelain laminate process.The smile makeover of smile creation is all about the little details. How much of the teeth show, their length, the color and the way the teeth fit the face. When the rules of smile design are followed, the result is the creation of porcelain veneers that duplicate natural tooth structure.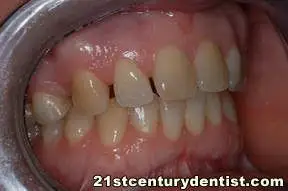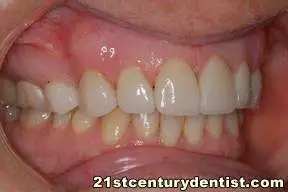 Before and After
Notice, there are several things going on which detract from the ideal, aesthetic smile. There are large spaces, dark tooth colors and improper tooth sizes. We were able to balance the restorations with minimal tooth preparation, and without any Novocaine. We lengthened the front teeth about 1mm and created a beautiful smile.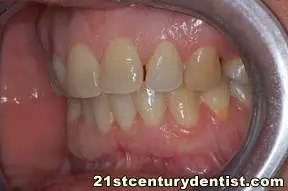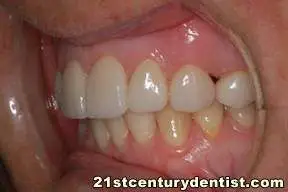 Before and After
This is a nice view of the preoperative smile on the right side. Again, it shows the difficulties we faced in creating the ideal smile. More notable was the reaction of friends and family. We attended this wonderful event. Not only did this patient receive compliments on her new smile, but we were told that we made her very happy. This came to us from a person near and dear to her, namely, her husband. Porcelain laminates change smiles. They also change lives, by making one proud to smile again. This was one of the most satisfying smile makeovers I have done.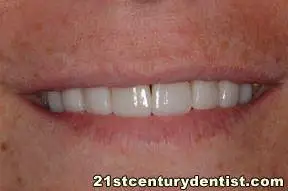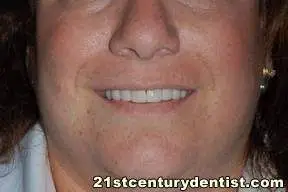 Before and After
A few additional after pictures for you to enjoy. Porcelain laminates or veneers can truly create the smile of your dreams, and without any Novocaine or temporaries. What is holding you back?
---
There are different ways of achieving a significant improvement in one's smile. There is also the ideal way to create the best result possible. In this case, the patient was missing key teeth and others that were in the wrong positions. The previous dentist and I presume the patient chose the easiest way possible. They overbuilt the teeth to close spaces. The patient and I decided to position the teeth to near ideal positions and then re-crown or laminate the remaining teeth. It was made clear to me that we were not to touch the two front teeth. So, a compromise to the result was accepted. However, we were able to beautifully match the surrounding teeth and create a very natural smile. The combination of porcelain veneers and porcelain crowns restored a long lost smile.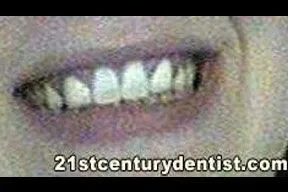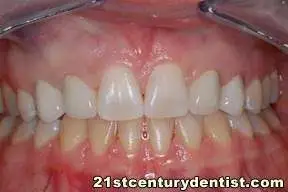 Before and After
There were a whole lot of corrections to be made to enhance the smile. Fortunately, the patient was willing to do it the best possible way, utilizing orthodontics and cosmetic dentistry to create nice balance. I would have loved to place 2 additional porcelain veneers on the two front teeth to close the space. However, the patient insisted we leave them untouched.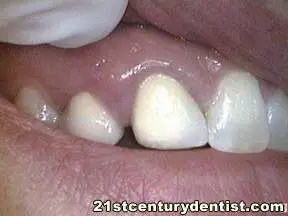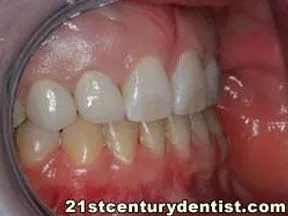 Before and After
The right side views show perfect proportion, color and ideal anatomy. It is not as easy as it looks to create a natural blend and give back the full smile we all deserve.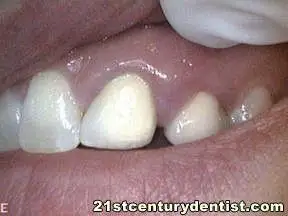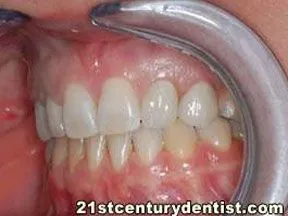 Before and After
The left side views show perfect proportion, color and ideal anatomy. It is not as easy as it looks to create a natural blend and give back the full smile we all deserve.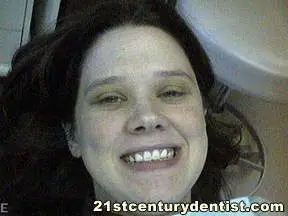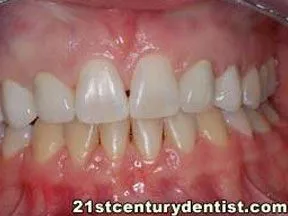 Before and After
---
After having major reconstructive dentistry, the only thing left was to cosmetically restore the lower 8 front teeth with porcelain laminate veneers. This concerned patient wanted to have a natural, durable alternative to crowning. We suggested minimal preparation porcelain veneers. In order to allow space to properly orient the lower teeth forward, it was necessary to adjust the backs of the upper front teeth to accommodate the position shift. If we had not pre-planned this, the end result would have been ground down over time due to an interference with her normal envelope of motion. She was thrilled with the result.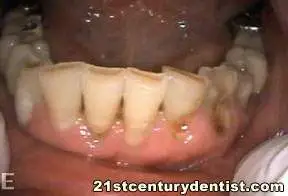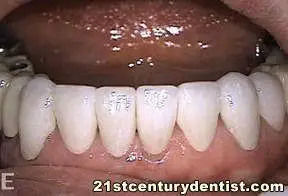 Before and After
We were able to correct just about everything that was of concern to this patient. We corrected rotation, grinding damage, color and position. By e-mailing photos to our laboratory, we were able to match the existing crowns exactly. Pre-planning this treatment plan enabled us to deliver exactly what was desired. A beautiful result...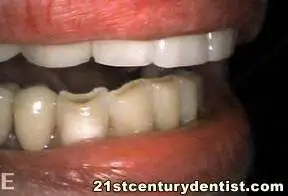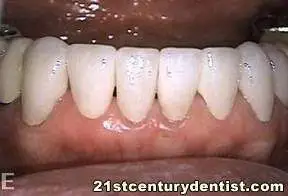 Before and After
---
Once an active, vital person, always an active, vital person. However, old dental treatments don't always reflect that vitality. It is possible to enhance one's appearance and rewind the clock by replacing old bridgework or by porcelain laminating or veneering worn or misaligned teeth.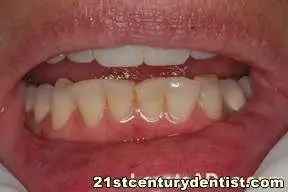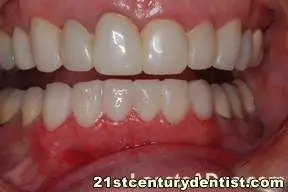 Before and After
Cosmetic dentistry can significantly improve one's smile. Shown here are the before and after temporary placement. Rotated, worn and discolored teeth are markedly improved. The temporaries act as a planning guide to enable the cosmetic dentist to translate the patient's wants to reality.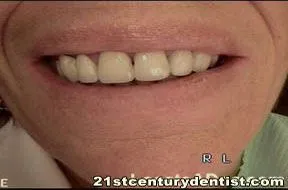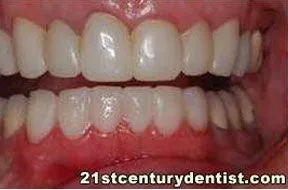 Before and After
Here we have a very nice result. The lower teeth are nicely shaped, whiter and well aligned. I can't tell you how much this patient appreciated the improvement porcelain laminates made for her. This patient visited our Larchmont office and traveled between Florida and New York to be with us. She was glad she found us.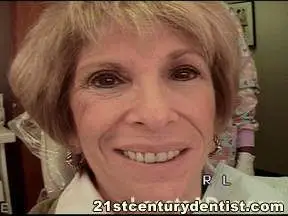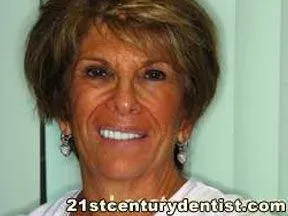 Before and After
This very vital, image conscious patient had a significant improvement in her appearance. She did have a paralysis of her left cheek, which caused slight drooping. However, she was quite happy with her new smile. It made the trip from the other end of the country well worth it.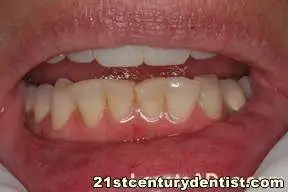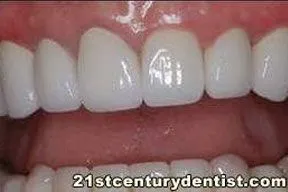 Before and After
Whether you visit us in our NYC (New York City) office or our Larchmont office, you'll receive the finest cosmetic procedures in a relaxed, comfortable environment. The changes that are possible are carefully explained before the treatment using temporary provisional (interim) stents that guide us to beautiful completed porcelain veneer or laminate restorations.
---
This fine gentleman came in with a fractured tooth in the front of his mouth. He had no other request except, can it be fixed? After a full mouth exam, we discovered that several teeth were in real trouble and in need of attention. We explained to the patient, that in addition to strengthening the remaining teeth, we would be able to create a smile he could be proud of. We carefully provided the patient with temporaries which were based on diagnostic wax-ups. The patient, his wife and their daughter provided the necessary feedback to allow us to give the patient a very natural smile. Oh yes, we were not able to 'just cement in the old crown'.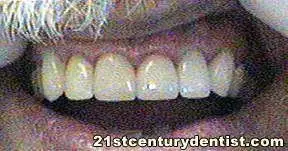 Before and After
This is what can be accomplished with careful planning and listening to the desires of the patient.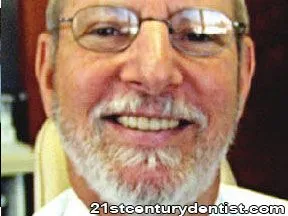 Before and After
A wonderful change for someone who deep down wanted to have a nicer smile, but it wasn't a life priority until something happened that required action.
---
This lovely lady presented for her routine re-care appointment. She was wondering if the old crowns (on either side of the two front teeth) could be made to match the front teeth. After closer evaluation, we pointed out that it would make more sense to 'dress up' and make the new crowns and laminates match the ideal, rather than the worn, discolored existing condition. She wanted to think about it. Out of the blue, 2 months later, she called and stated that she wanted to go ahead with the plan, right away. Someone in her family had said something to her which struck a nerve. Your teeth seem so dark. That was all it took. look at the change in this smile!!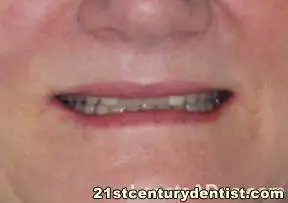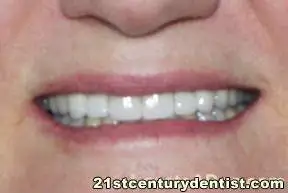 Before and After
This patient, felt so thrilled with her new smile. It was so natural, that she didn't want anyone to know she had anything done.This was a mix of bonded all ceramic crowns and porcelain veneers. Can you tell which is which? I already told you from the previous description.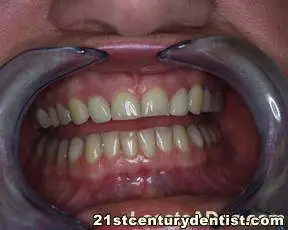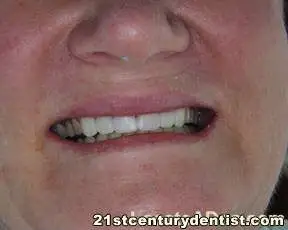 Before and After
This set shows the natural before state. The other shows the temporaries on on the front six teeth. The patient quickly realized what we had told her earlier, that the back teeth were angled in and that we would need to add to the cheek side surfaces of the teeth to make them appear even with the rest of the arch.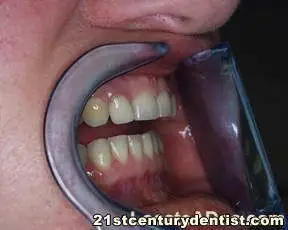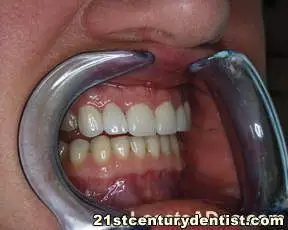 Before and After
Side views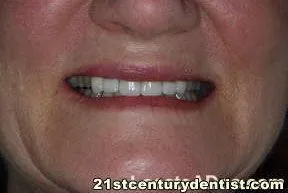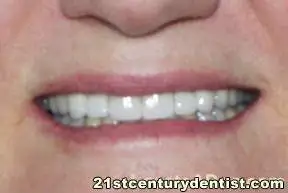 Before and After
Smile with just the front six teeth. And, the corrected full smile with eight teeth total.
---
This lovely lady was unable to show her teeth without great difficulty. We carefully described things that we could do to make her dreams come true. She was unbelievably thrilled. This transformation took 2 visits. We did a careful wax mock-up to get a preview of the final result. This enabled the patient to fine tune exactly what she wanted.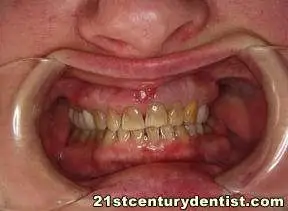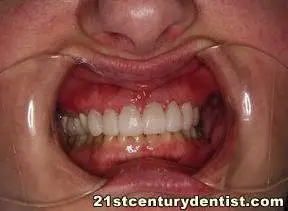 Before and After
Frontal view patient wearing provisional restorations on upper front teeth.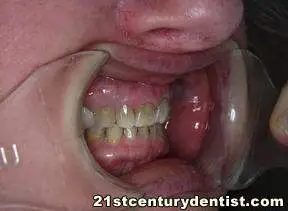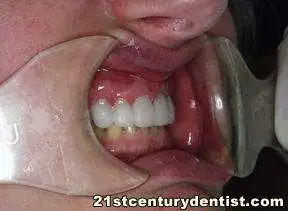 Before and After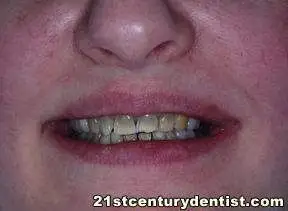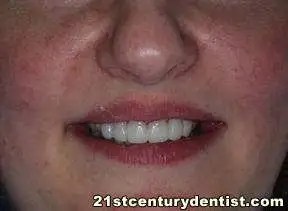 Before and After
A 2 visit transformation, giving this patient a chance to smile for the first time in many years. We were able to mask very deeply stained teeth and lengthen them to give a better appearance.
---
New Porcelain Laminates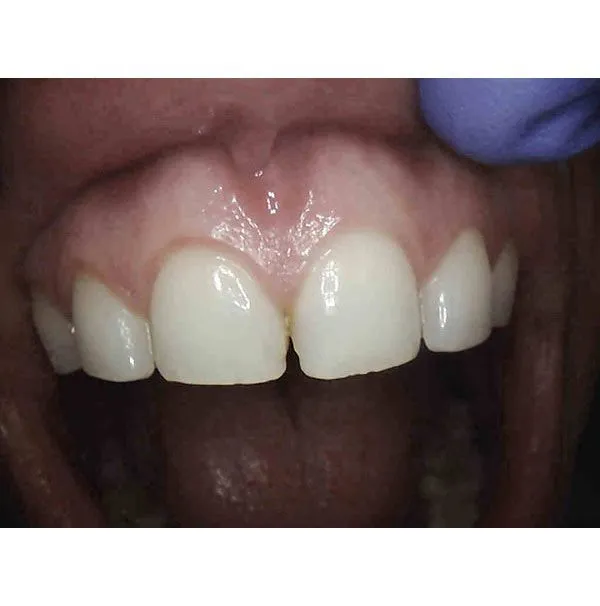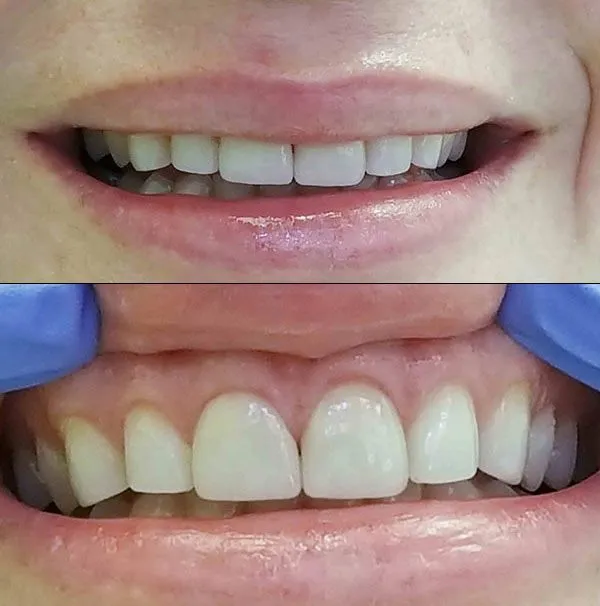 Before and After
Above photos are actual patients of Joel F. Levy DDS who have given consent for the use of their photos for this website.